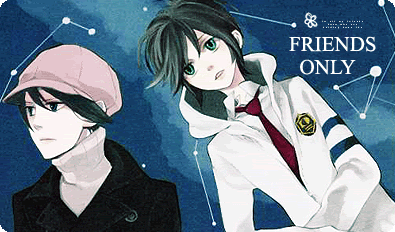 This journal is semi-friends only. Fanfics, AMVs, and things of that nature will remain unlocked, but most real life things/fangirling/etc will be private. :) If you're interested in adding me, go ahead and drop me a line. I'm usually not very strict when it comes to adding people. I'd just like for us to have something in common.

( Collapse )( Collapse )
( Collapse )

Comment on this post if you wish to be added!
Friends Only Banner by
ushiosan. Mood theme by
alice_rm. The lyrics in my header are from two different songs: "Monochrome no Kiss" by SID and "Twist" by Metric. :)